| | |
| --- | --- |
| | Water Sport Centre-Technical Data |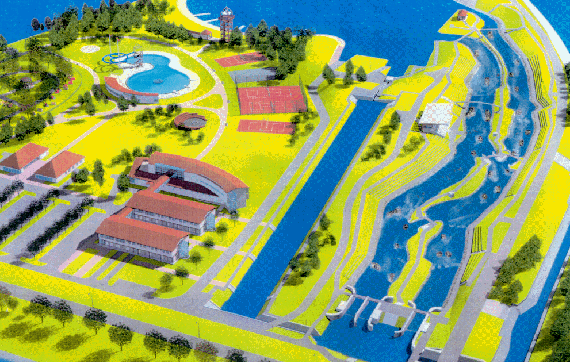 ---
Water Sports Centre
The Water Sports Centre is situated 20 km from Bratislava's city centre. Transport options include own cars (parking facilities next to the Sports Centre) or public transport to Cunovo (part of Bratislava) followed by 2 km walk. From Bratislava, take the Rusovce direction, to the state border with the Republic of Hungary.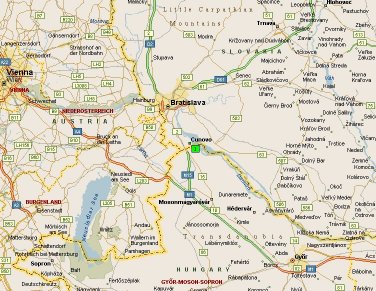 The Centre's facilities and conception meet the criteria of world's best sports stadiums. The Centre offers training possibilities for performance class water slalom racers and rafters but also for amateur sportsmen. It is possible to hold European and international competitions in the Centre which boasts Olympic parameters (World Cup in Water Slalom was held here in 1997). Sports competitions are held in a closed cycle which consists of a starting pool, two courses (choice possible), a boat lift and a reverse and run-down canal.
The courses are designed with recommendations and knowledge of Mr Cibak, co-author of similar projects in Australia, Spain or Poland.
---
Facts on Centre's Sports Facilities
Starting pool (view picture 38 KB)
Sized 20x40 m, depth approx.1500 mm. Through the pool is supplied (depending on requirements) water to the left or right course. As it is the end of reverse canal, the competitors may stay on water longer before the start. They are called on the lighting board which displays name of the competitor to prepare for the start.
Courses (view picture)
Two canals with combinations total up to 5 course variants with difficulty levels from beginners to top level sportsmen. Alongside the courses are moving hurdles, which may change the shape and difficulty of the course. Right canal is 460 m long, maximum fallout is 6.6 m. Discharge is 7-12 m3/sec. Left canal is 356 m long, maximum fallout is 6.6 m. Discharge is 7-22 m3/sec. When opened at one time, both courses can have a discharge of 7 m3/sec in the right canal and 15 m3/sec in the left one.
Finish building (view picture 40 KB)
At competitions, the building serves as an information system centre which provides timings of competitors, collection of penalty points, processing of results, control of result displays in the Centre and gives information on the competition to local computers as well as the Internet.
Boat lift (view picture 66 KB)
serves for transport of boats from finish area to run-down canal. Competitors can get back to start after they finished without getting off the boats. Boat lift is 37,200 mm long at the horizontal, angle of climb is 17.5 grades and angle of decline is 14.5 grades. Transporter is 1200 mm wide, speed of belt is 0.83 m/sec. Time of boat transport is 45.2 sec. At one time, three boats with double teams can be transported (C2).
Reverse and run-down canal (view picture 34 KB)
is 255 m long, water level is 14 m wide. Comfortable access from the boat-house. Suitable for heating up of competitors and training of beginners.
Stand (view picture 46 KB)
Offers a good view on the most part of the course. Contains an information centre for journalists and commentators, rooms for Competition Organization Committee. Refreshments are served. Information on competition is provided on-line directly to the computers in each room.
Boat-house No. 1 (view picture 44 KB)
is a two-storey building: garages for boats (6 rooms), a workshop, a launderette and a drying-room for sport suits and a service room may be found on the ground floor. First floor has a club with bar and dressing rooms with facilities for competitors (showers, WC, lock-up boxes). Boat-house No. 2 with accommodation facilities is currently under construction.


  - Last change: 30. 07. 2002